InterChamber Networking Drinks: Sunset Party was held at Crowne Plaza's Helipad Rooftop last Thursday. The drink was co-organised by BritCham and AustCham, supported by the Italian, Spanish, German, French and Benelux Chambers.
More than 200 guests joined the Sunset Party to enjoy the beautiful city skyline and the chance to mingle and network with other guests.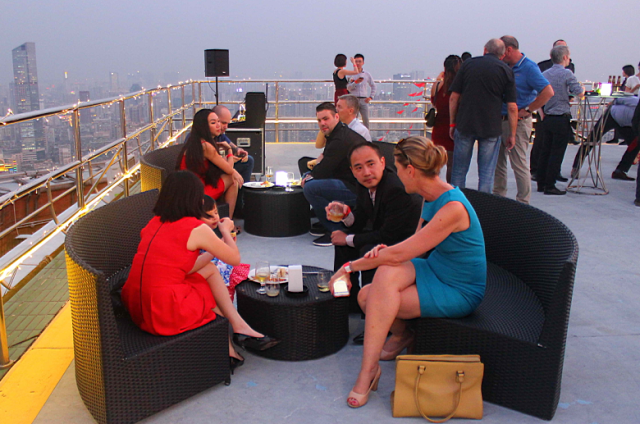 The night was a huge success with guests enjoying fine wine provided by The Wine People, live cooking by Keadon, pastries by H-Pantry, sunset cocktails sponsored by Little Treasure and of course a delicious buffet spread catered by The Crowne Plaza.

Specials thanks to United Family Clinics; Zhaicai Farm; Eur Am International Medical Center and Atlas for sponsoring the amazing prizes.
Guests dressed up in red and blue to win the Best-Dressed Competition.
Blind Wine Tasting Competition attracted many guests to join in

We also enjoyed a surprise lightning show in true Guangzhou form, finishing up the event on the 62nd floor, with a packed venue, awesome company and great music.